"Quality has to be caused, not controlled."
Philip Crosby
GREEN CUSTOM HOME BUILDER
I
n any desert environment, resources are scarce and precious. This is especially true in Arizona, and Scottsdale, one of the fastest-growing cities in the United States.
The Scottsdale "Green Building Program" was developed in 2004 to reduce energy consumption, and environmental impact of buildings, prior to, during and after development. The opt-in program requires that builders meet a number of very stringent criteria in order to display the coveted program sign. Some of these include: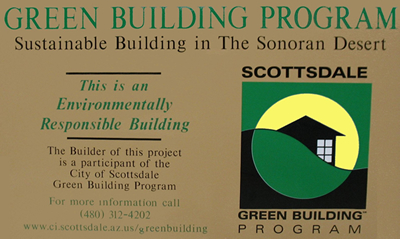 Scottsdale's "Green Building Program" sets high standards in environmental considerations for home builders
Avoiding development of inappropriate sites and reduce the environmental impact from the location of a building.
Limiting disturbance including earthwork and clearing of vegetation to within 20 feet of building footprint.
Minimize heat absorption, use systems that reduce heat and glare.
Use of at least one water conservation measure.
Use rapidly renewable building materials and products.
Mike Frat was an early adopters of these new standards. In fact, they were already taking environmentally-sensitive and energy-saving precautions when the program was announced. Building high-end luxury custom homes demands the very best in materials and labor, and the Frats have found a harmonious balance between the high expectations of their clients and the needs of the environment into which their new homes are added.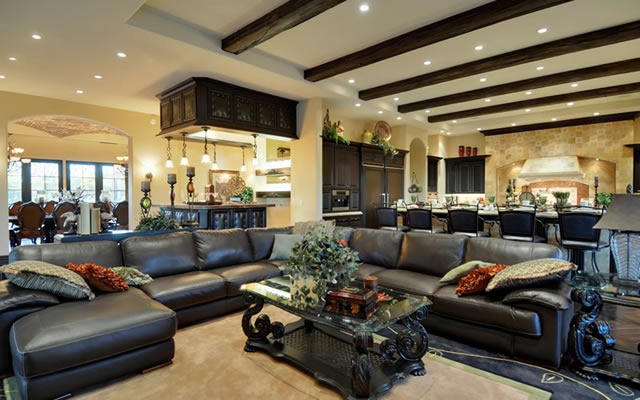 Not just any Scottsdale Custom Home Builder : Pictures from our Portfolio
When building a new home, Mike endeavor to minimize the impact the new home will have on it's surroundings and always design with a vision that complements, rather than changes, the surroundings. As required by the Green Building Program, there is very limited disturbance to the area around the building site. They use many energy and water conservation features such as insulated block, desert landscaping and energy-efficient appliances.
As environmental technologies develop, Mike Frat continue to improve and update their methods, setting new goals with each new project and helping do their part to preserve the environment.